The route of the Black Crab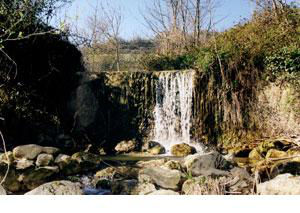 Distance: km 5
Time advised: 75 minutes to go up, 45 minutes to go down
Difficulty: easy
Explore the wet route of the Black Crab on foot or on the saddle of a mountain bike, starting from the museum of Castelplanio and going downhill along Caciampa Street until the ditch.
You can also leave your car in the square in front of the Church in Macine-Castelplanio, also called Castelplanio Stazione and follow Via Copparoni until you reach the entrance of the route.
The path is flat at first, but after 2 km it climbs up to Castelplanio and ends near the Town Hall Square (Palazzo Mancini).
Along the route, you can admire the river-wood located in the border area between Castelplanio and Rosora.
The vegetation boasts rare tree species such as the white alder, the narcissus and the wild orchid and you can also find butterbur and pennywort.
Fonte del Coppo, dating back to the XVIII century, is the first water supply in Castelpanio and the quality of the ditch's waters have been better since 1995.
This small river with waterfalls and small lakes is the ideal spot to enjoy a strict contact with a natural world of profound beauty. Be careful: avoid it after rain!