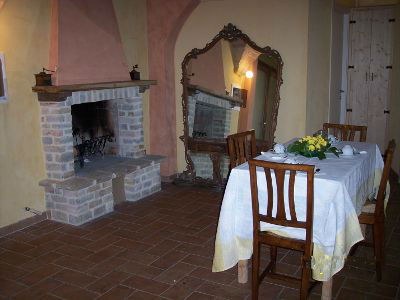 Point of interest
Numero di stanze/Rooms: 2 stanze
Prezzo/Price: da – from € 35

B & B 'Lo Sfizio' is located in the heart of Cupramontana at No. 3 Vicolo Leoni in the famous eighteenth-century palace, Palazzo Leone, built by Mattia Capponi. The accommodation consists of two bedrooms with tv, bathroom, living room and kitchen. A laundry service is also available. Adjacent to the entrance of the B & B you will find the International Wine Label Museum, brainchild of art critic Professor Armando Ginesi. The museum dates from 1987 and here you can see a collection of 60,000 local and international wine labels with related documentation from around the world. Cupramontana is famous for the local wine "Verdicchio", produced by our local vineyards and excellent Olive Oil produced in the olive groves in the surrounding countryside. Here too, you can taste typical dishes of Le Marche.
A perfect place to spend a relaxing holiday.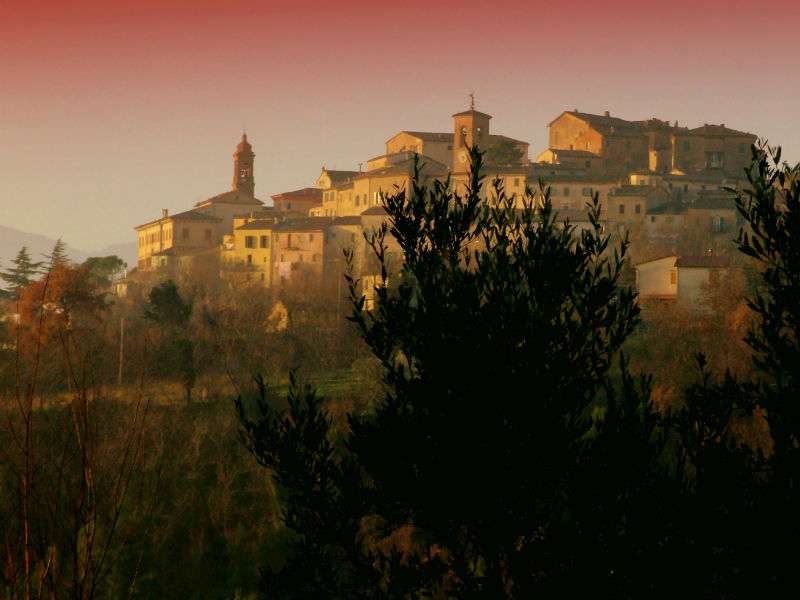 Municipality
By virtue of a decree of the President of the Republic Giorgio Napolitano, Castelplanio was granted the title of city on 11 July 2006.
Come here and taste its famous dish: the "Crescia sul Panaro"!
Since the 1950s and 1960s it has been a poor food prepared with a few basic ingredients. It is made of polenta, that is a maize flour cooked in water within a special container, the "callaro", where it was continuously stirred by hand with the aid of a particular ladle, a sort of long wooden cylinder with three or four metal edges on the bottom.
Since those lean years, when people could not afford to waste anything and leave it unused or eat it reluctantly, the left polenta was then reused by mixing it with a bit of wheat flour, kneaded it again (this time by hand) giving shape to the so-called "cresciola." . Then it was put on to the panaro, a metal plate with a long handle, a kind of pan without edges . See if you can find it in our country houses , hanging on the wall or in the fireplace; today it is no longer a working tool, but only an ornament.
Wrapped in a large yellow sheet and holding it in your hands, taste the crescia with vegetables (chard, chicory, wild herbs ...), ham or sausages.
It can be also a sweet crescia when fried and covered with sugar or chocolate cream. It is a delicious dish, not only for children.
Treat yourself to a pleasant "voyage of taste" into the traditional flavors of our cuisine and celebrate with us Castelplanio's summer festival: " La crescia sul panaro". This year (2013) is the 40th edition.
The crescia is now stirred by a far more practical mechanical arm that operates automatically in the container-mixer in ordert to satisfy the hunger of so many visitors from the neighbouring villages and towns of Vallesina and of Ancona and even from other countries.
Castelplanio is one of the last places in the Marche to have put the tradition of the crescia to an excellent level.
The Pro Loco Castelplanio is ready to celebrate the special 40th edition of Crescia sul Panaro Festival with two long weekends (12-14 July and 19 to 21 July). Do not miss it!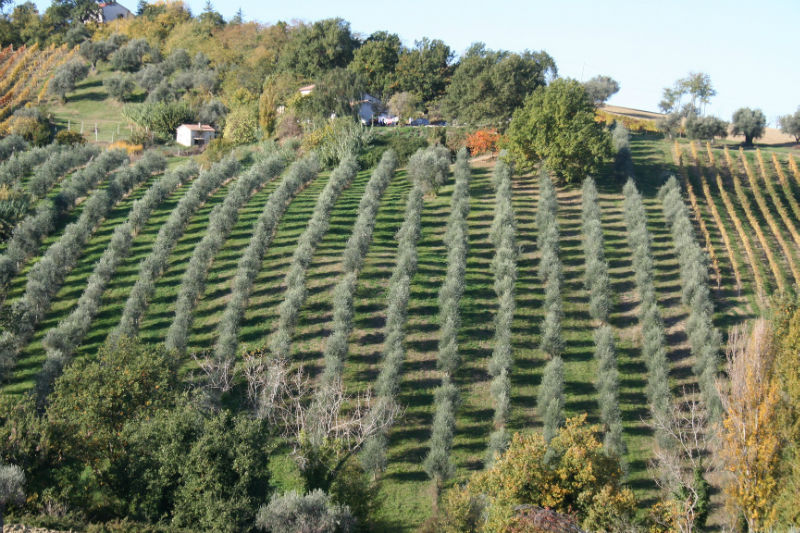 Itinerary
Distance: km 21
Time advised: 4 hours (on foot); an hour (by car)
Difficulty: medium
From the archaeological area in Cupramontana, take the road which leads to Follonica, San Paolo until Staffolo.
Along the route, you can visit the ancient Roman aqueduct of Cupramontana (also called "Barlozzo" referring to the sect "Fraticelli") and the medieval church of San Michele.
Not far from it , the vineyards of Follonica give birth to one of the best Verdicchio doc wines.
The ancient castle of Follonica is famous for its mysterious and legendary events.
At Contrada Battinebbia you can find the Vulcanelli di Fango (small volcanoes of mud) and a precious source rich in minerals, called "Acquasalata", renowned for its miraculous and therapeutic properties.
Passing through San Paolo di Jesi, you can easily reach Staffolo where its Museo del vino (Wine museum) houses a wide collection of artifacts of winemaking tradition.