Piazzale Domenico Ricci, 1 - 60038 San Paolo di Jesi (AN)
tel. +39 0731779088 fax +39 0731770113
comune@comune.sanpaolodijesi.an.it
San Paolo di Jesi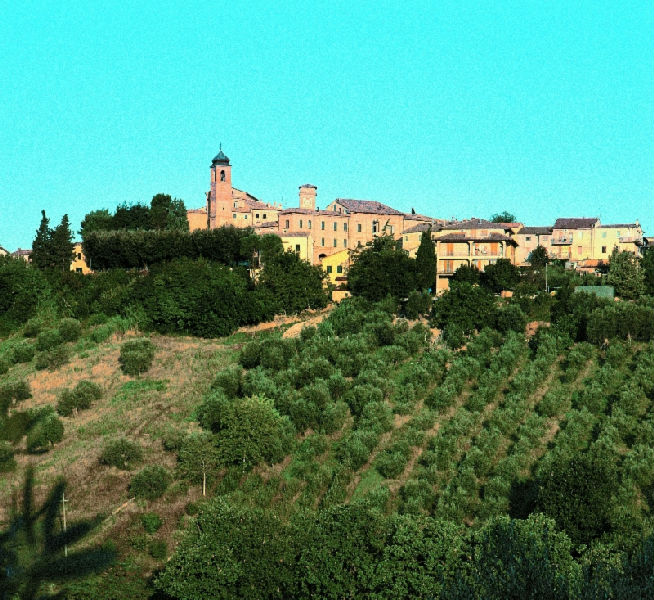 It's hard to imagine a better setting in which to enjoy wonderful walks along its beautiful landscapes and the flavours of traditional recipes.
Small castle situated atop a hill rich in vineyards and still strongly tied to the production of Verdicchio wine.
San Paolo of Jesi dominates the right side of Esino Valley, just 12 kilometers from the town of Jesi.
The population is composed of just 930 inhabitants and the village extends 10 square kilometers.
It can be easily reached from the major towns of the valley and of the Adriatic coast. It is 40 kilometers far from Ancona, 25 km from Falconara airport and only 5 km from the highway.
San Paolo derives its name from St. Paul who has been its patron since the Middle Ages .
The original name was "Castrum Montis Sancti Pauli" and referred to a small church dedicated to St. Paul, which may have belonged to the monks.
On 8th February 1863 the specification "of Jesi" has been added to the traditional name in order to distinguish it from other towns having the same name.
Only in 1079 there is the first evidence of primitive "castrum" while the first mention of San Paolo as a castle of the County of Jesi dates back to 1275.
San Paolo was mentioned together with Staffolo on occasion of an adjustment of the borders between the towns of Jesi and Osimo in 1286 and therefore it belonged surely to the County of Jesi. This was later confirmed both in the "Descriptio Marchiae Anconitanae", a collection of contemporary documents, in which San Paolo is one of the "castrates and villas" of the town of Jesi, and in Egidiane Constitutions issued in 1357 by cardinal Albornoz after the recovery of the various communities in the Marches which had rebelled against the Church of Rome.
During the first half of the fifteenth century Jesi was incorporated in the State of the Church and as a consequence San Paolo too recognized the sovereignty of the Pope. The castle of San Paolo belonged to the County of Jesi until 1808. After the descent of Napoleon's troops it became part of the canton of Apiro and later it was annexed to the municipality of Monte Roberto until 1818 when Pope Pius VII gave it independence. However in 1928 the fascist government decided to unite it to Staffolo. Only in 1946 San Paolo gained its autonomy again.
Climb the hill for a look around some remains of the walls of the church Santa Maria d'Arco and the attached Augustian monastery and admire the beautiful decorated in silver and copper gilt chalice, bearing the date 1523 and the name of the church it belonged to.