Palazzo Comunale e Teatro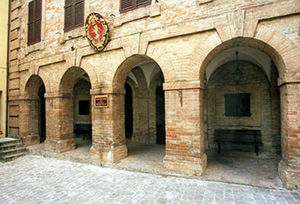 Address: Via Matteotti, 68 - Poggio San Marcello
Situated near the old entrance, the Town Hall was rebuilt in 1700 by the architect Capponi from Cupramontana.
The facade has a portico with four arches. A staircase with an elegant travertine balustrade leads to the first floor which houses the mayor's office and the council hall. Four medallions are displayed in the high ceiling, representing the symbols of the Savoy's, Provincial, District and Municipal Arms (a lion rampant within a floral wreath).
Here you can admire other decorations enhancing the scenic art and four medallions representing the Italian poets of the Golden Age.
Attached to it, you will find the stage once used for performances of companies and jugglers.