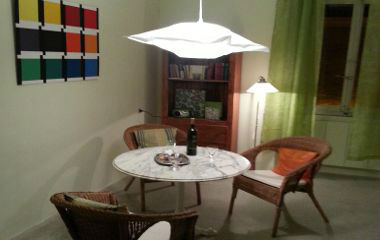 Point of interest
Numero di stanze/Rooms: 1 appartamento
Chiusura/Closed:
Prezzo/Price:
The house with three apartments is at the heart of the historic old town, in a row of houses with independant entrance, on the (almost) car-free Piazza IV Novembre, by the inhabitants affectionately called La Piazzetta.
With enthusiasm I jumped into this project and renovate gently and lovingly the old simple flats. I made sure to use organic materials. In one part of the rooms are still the old furniture, as I found them. The rooms are large, the ceilings are supported by powerful beams. Old stone floors are still present to some extent. From the top apartment is a view over the rooftops, over the rolling hills to the sea or to the mountains.
The lowest and smallest apartment consists of a living room with a kitchenette, a bedroom with a double and a single bed and a small bathroom.
Cupramontana is a very lively town. On warm evenings, the residents move their living room unceremoniously out on the Piazzetta. So you will quickly contact if you want. It also held events and the Orieta restaurant occupies part of the Piazzetta. In the center, there are also some bars, bakeries and shops for daily needs. Monday's weekly market. Here you can find everything cheap, whatever your heart desires.
The central location in the Marche, makes Cupramontana the ideal starting point for all kinds of excursions and activities. Sports, nature, culture, and of course not forgetting the local delicacies.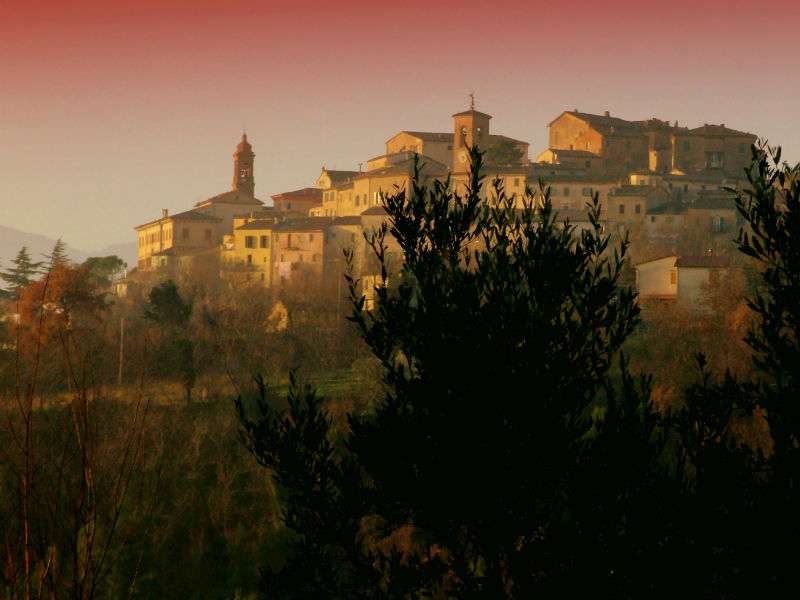 Municipality
By virtue of a decree of the President of the Republic Giorgio Napolitano, Castelplanio was granted the title of city on 11 July 2006.
Come here and taste its famous dish: the "Crescia sul Panaro"!
Since the 1950s and 1960s it has been a poor food prepared with a few basic ingredients. It is made of polenta, that is a maize flour cooked in water within a special container, the "callaro", where it was continuously stirred by hand with the aid of a particular ladle, a sort of long wooden cylinder with three or four metal edges on the bottom.
Since those lean years, when people could not afford to waste anything and leave it unused or eat it reluctantly, the left polenta was then reused by mixing it with a bit of wheat flour, kneaded it again (this time by hand) giving shape to the so-called "cresciola." . Then it was put on to the panaro, a metal plate with a long handle, a kind of pan without edges . See if you can find it in our country houses , hanging on the wall or in the fireplace; today it is no longer a working tool, but only an ornament.
Wrapped in a large yellow sheet and holding it in your hands, taste the crescia with vegetables (chard, chicory, wild herbs ...), ham or sausages.
It can be also a sweet crescia when fried and covered with sugar or chocolate cream. It is a delicious dish, not only for children.
Treat yourself to a pleasant "voyage of taste" into the traditional flavors of our cuisine and celebrate with us Castelplanio's summer festival: " La crescia sul panaro". This year (2013) is the 40th edition.
The crescia is now stirred by a far more practical mechanical arm that operates automatically in the container-mixer in ordert to satisfy the hunger of so many visitors from the neighbouring villages and towns of Vallesina and of Ancona and even from other countries.
Castelplanio is one of the last places in the Marche to have put the tradition of the crescia to an excellent level.
The Pro Loco Castelplanio is ready to celebrate the special 40th edition of Crescia sul Panaro Festival with two long weekends (12-14 July and 19 to 21 July). Do not miss it!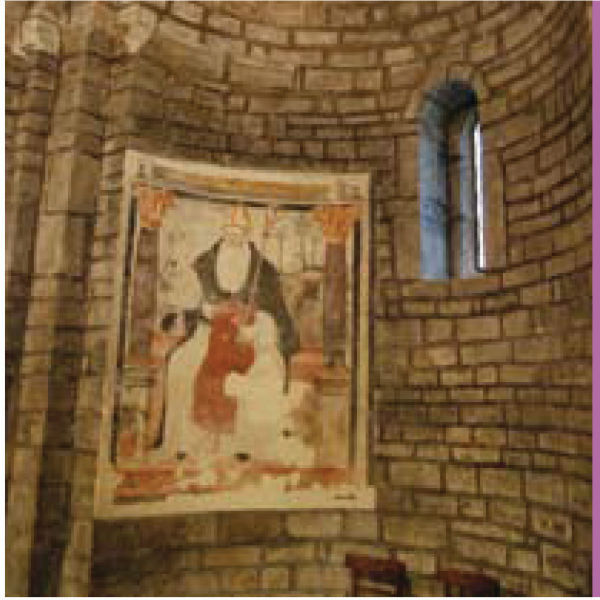 Itinerary
Distance: km 21
Time advised: 3 hours (on foot); an hour (by car)
Difficulty: easy
Starting from Santa Maria alle Moie Abbey, follow the road towards San Sisto and visit its Abbey; cross Scisciano Bridge and have a look at Mill Marcelletti in Scisciano. Then go on your way towards Maiolati Spontini .
A walk here allows you to experience a contact with a world of history and culture (Scisciano and Maiolati castles); of spirituality (Santa Maria alle Moie Abbey, San Sisto Abbey, the rural churches of Santa Liberata and San Pietro); as well as with a natural world and an amazing landscape, a patchwork of vineyards and olive-groves.
Going downhill back to Moie along the so-called Boccolina, do not forget to visit the small rural church of San Pietro at the bottom of it.